As we inch closer to the Draft (June 24th) and the start of free agency (July 1st), reports have been surfacing about who is and isn't resigning with the team they finished the season with. The Caps are no different, as news has been slowly leaking about the direction the team is headed going into next season. It appears goalie Jose Theodore, who endeared fans this season by bouncing back from the utterly tragic death of his two-month-old son with a terrific 09-10 campaign, will not resign with the Capitals. This indicates that General Manager George McPhee has decided it's finally time to see what a Semyon Varlamov/Michal Nuevirth goaltending tandem can do.
It has been announced that Scott Walker and Joe Corvo, two depth players acquired at the trade deadline for an anticipated deep playoff run, will also not be returning to D.C. Today, Tarik El-Bashir reported that Brendan Morrison will be leaving Washington as well. This re-opens a need the Caps will now have to spend two year trying to fill: a second line center.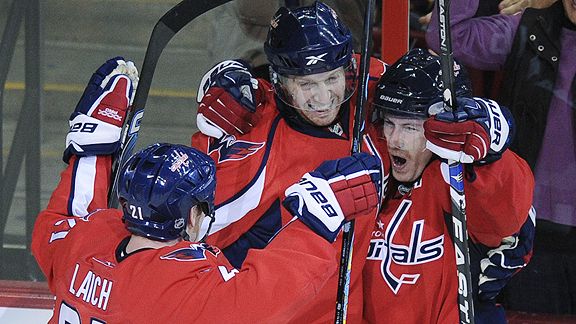 When Sergei Fedorov left to play with his brother in the KHL, the Caps signed Brendan Morrison to fill the void. He was cheap, and during the first half of the season GMGM looked like a genius for the deal. Morrison stacked up goals and points at levels way beyond his paycheck. Then he hit a wall (hard) during the second half of the season. It became clear that he was not quite the fit for that role.
In my opinion, the reason why it is so hard to find a second line center to fit this team is because it is hard to find someone to play with the enigmatic Alexander Semin. His communication skills are less than stellar, he can be streaky, and you literally have no idea what he is going to do. Many a teammate have been thrown offside because of his impromptu dances at the blue line. The center that can finally handle Semin on their wing is going to be the center who flourishes in that role. Brooks Laich, being the super sexy adaptable player that he is, can play with Semin. Also, Laich's style of play is one that complements any skilled player well. The organization has put 2/3 of this line together, and the glue is still missing. It appears as though they will either use Eric Belanger, who they are in contract talks with, or go to free agency to try and fill this void.
There are two problems with this. One is that the center market is not exactly top-of-the-line this year. Joe Pavelski and Patrick Marleau will most likely resign with San Jose and would cost too much anyway. There are a couple of other options, but free agents will cost money and cap space, and that is one thing the Caps do not have a huge amount of.
It is possible that GMGM will try and move someone within the organization into that role. Flash was able to contribute in that role, but he is too much of a defensive liability to play center, and there is a strong chance he will not be back in Washington next year since the team is in talks for a multi-year deal with Eric Fehr. The Capitals have a few prospects who could make the jump to the big team next year in Mathieu Perreault and Marcus Johansson. However, both of these players fit in much better in a third line role. So do the Caps find someone on the market? Do they promote a prospect who may not be ready for the role? Do they stick Eric Belanger back in there and hope he gets settled in the role? When the free agent market opens many of these questions will be answered. Until then, let the rumors flow like champagne from the Stanley Cup.