It was the beatdown no one saw coming.
NFC East games are always competitive.
The Redskins had been rising and falling to the quality of their opponent so far this season.
It was at home, and Donovan McNabb had something to prove after signing a 5-year, 78 million dollar deal.
It was supposed to at least be close.
Alas, that's why they play the game.
The final score was 59-28 Eagles, dropping the Redskins likely out of any playoff hope with a record of 4-5.
The Eagles jumped out to a 28-0 lead after scoring touchdowns on their first three drives of the game, all in the first quarter.
By the beginning of the second quarter, it was 35-0.
The Redskins tried to make a comeback, but defensive mistakes cost them and they weren't able to stop the bleeding as the Eagles continued to rack up touchdowns.
One thing needs to be understood about this game: it was not McNabb's fault.
Tomorrow, there will be stories all around Redskins nation about how the extension was a huge mistake, just look at this game.
They will be wrong.
McNabb led the offense to 28 points, which should be enough to win a football game.
This game was lost because of a historic performance by Michael Vick and atrocious defense.
First, Vick played out of his mind.
It was a career game for him, and likely one he will never get again.
That needs to be recognized, and credit needs to be given where credit is due.
Given that, the Skins defense didn't make it too hard for Vick to walk all over them.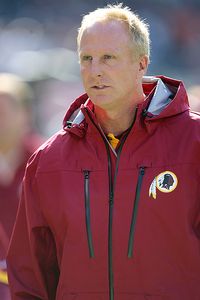 Jim Haslett, Redskins Defensive
Coordinator, had no answers for the
Eagles offense Monday night
To say the defense came out flat would be like saying Jim Zorn is a quirky play caller: a drastic understatement.
They were completely unprepared, and on the first drive of the game Vick threw to DeSean Jackson who ran it 88 yards for a touchdown.
It was obvious the wind was knocked out of the D's sails, and that didn't change when the offense then went three and out in its opening drive.
The defense was unable to hold the Eagles again, and the Eagles scored on their second drive of the game as well.
It continued to unravel from there.
The defense couldn't stop the Eagles from scoring long enough for the offense to find its rhythm.
With two weeks to prepare for an Eagles team they have already faced, this is inexcusable.
Problems seemed to rest both with defensive coordinator Jim Haslett's game plan and the lack of effort from the players.
Holes in coverage were exploited, and the players weren't able to execute the plan.
All around, it was a performance to be embarrassed of.
The Redskins need to watch it, learn from it, and forget about it quickly.
They have a game in Tennessee next week against a tough Titans team.
This is no time to wallow, the entire teams needs to figure out what went so horrible wrong and fix it without dwelling on it.
It will be a mental challenge, but hopefully that will only put a chip on their shoulders that will carry into next Sunday.
It would have been unrealistic to think that this team would make the playoffs or even go to the Super Bowl.
There simply isn't enough talent…yet.
This team needs to be rebuilt from the ground up, but in the mean time it has to be okay to settle for improvement from last season.
And with one more win in the last six games, the Redskins will be an improved football team.